01 Dec 2022
The Year in Review: Reflections on 2022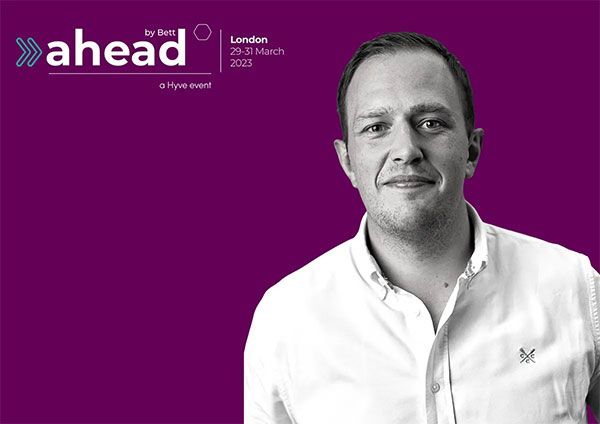 As the year draws to a close, we've invited our Founding Partners and our Event Director, Max Oliver, to reflect on a year of accelerated transformation for Higher Education. Read on to hear from Max, UCISA, Jisc, ALT and Universities UK on their key takeaways from 2022, and what we're looking forward to for Ahead by Bett 2023!
"8 months have now passed since the industry came together for the inaugural Ahead by Bett, and in that time we have continued to see the sector transform at pace through a huge number of challenges borne from the pandemic. Throughout our research this summer and in our programming for our 2023 show, we've explored the themes of Leadership, Innovation, Skills, Inclusion, Wellbeing and Futures across our Think Ahead Hub in an effort to reflect the incredible work the Higher Education sector is doing to evolve for a post-pandemic landscape. One topic that I've enjoyed focusing on has been on the role of the student and how student experience is being reshaped. In one of our Think Ahead TV episodes this year, I had the pleasure of interviewing two UCL students who are heading up Jisc's Change Agents Student Network, through which they are forging a closer relationship with staff to ensure they have a say on wider university issues. This is well worth a watch back on our website!
As we look towards Ahead by Bett 2023, it's staggering how much we have grown in the short months since our launch. Our 2023 show will increase in size by over 300%, still incorporating thought-provoking and forward-thinking content across three content theatres and prioritising peer-led conversations. Through the guidance of our Founding Partners, Jisc, UCISA, ALT & Universities UK, along with our Advisory Board consisting of industry experts, we are continuing to sculpt the event into a truly memorable experience with actionable takeaways for all of our attendees. Thank you to our collaborators, supporters and partners for their ongoing support of Ahead by Bett.
I have no doubt that over the course of the four months we will have to navigate further disruption within the sector, but this makes me even more excited to see everyone again from the 29th-31st of March to share our challenges and work together to find the right solutions.
In the meantime, do watch out for a new episode of Think Ahead TV in January, and keep an eye on our website for news about the event and regular articles on industry trends. Lastly, I wish you all a Merry Christmas and hope you all manage to get a well-deserved break with family and friends.
See you in March!"
Max Oliver
Event Director, Ahead by Bett
Thank you for joining us on our EdTech journey this year! We can't wait to welcome you to Ahead by Bett 2023, but for now see below for some further reflections from our Founding Partners on how the Higher Education sector has changed in 2022.
"Throughout 2022 institutions continued to deliver innovative new solutions, whilst maintaining, renewing and/or replacing legacy environments, whilst finding creative ways to meet increased demand for IT talent and skills. Post-pandemic, institutions are increasingly looking for a more rapid pace of change although there is some concern that budget levels are not increasing to support this. Colleagues are working through what a "new normal" looks like, as institutions move from fully remote to something new: exploring hybrid, experimenting with new learning spaces, considering how technologies can enhance the physical as well as the digital learning spaces- bringing the physical and digital together more cohesively. Looking ahead, with the growing importance of technologies to meet the strategic aims of the sector, CIOs are increasingly seeking a seat on the Executive Board, to better guide transformation and digital investment at their institutions."

"Universities are developing their digital strategies to accelerate the uptake of digital across the organisation to support underpinning business processes and enabling innovation in education and research. This is why Jisc has launched its new strategy focusing on supporting universities with their digital transformation journey. The sector must continue to invest in infrastructure and develop the digital capability and confidence of staff if we are to maintain a world-class higher education student experience. As universities move from the pandemic pivot of remote learning to students being back on campus, universities are reviewing and redesigning their courses. We know from our recent Jisc digital experience insights survey of 32,000 higher education students that they expect the use of digital to continue: 45% requested a mix of on-site and online learning, and 13% wanted to learn mainly online. This is an opportunity to reimagine the student experience and the role digital plays. The Office for Students' recent Review of Blended Learning recommended that 'providers should make sure that sound pedagogic principles inform their approach to blended learning rather than factors such as student number growth'. To achieve this, universities will need a strategic focus on supporting staff with learning and curriculum design."

"In our community, the key focus this year has been on how to scale up digital transformation, and how we can make this change sustainable. Colleges and universities have tackled the aftermath of the crisis and explored how to learn from and build on what we learnt during the dark days of lockdown. Members have worked incredibly hard to show how learning technology can move beyond being a crisis measure and benefit students, staff and institutions once again. Importantly, how can professional bodies like ALT support staff and skills development to engage and create the rich learning experiences our learners need, for example professional accreditation from apprenticeships to professional and leadership development."

"The success of UK Higher Education is built on a spirit of collaboration. The free flow of ideas and knowledge depends on it. Together with our members, we've been proud to shape policy that allows universities to deliver the greatest impact possible for students, staff, the economy, and the communities they serve in 2022. Most fundamentally, Higher Education improves lives, providing people with an education and skills, employment opportunities, and helps to build a better world. We're excited to continue our work with universities, government, business, academic research and technologies to help an array of vital industries thrive in 2023."
Ahead by Bett returns to the ExCeL London on 29-31 March 2023, bringing the Higher Education community together to learn, network and trade. Get your ticket here!