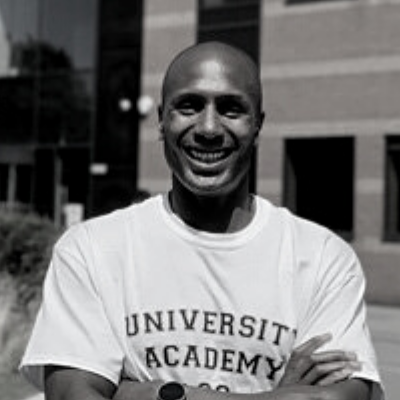 Aaron Saxton (Sax)
Director of Disruptive Learning
,
University Academy 92
As a leader of modern education and national ambassador for teaching, Aaron Saxton (aka Sax) joined University Academy 92 (UA92) as the Director of Disruptive Learning in the summer of 2021.

Believed to be one of the first roles of its kind in Higher Education in the UK, Sax will take on the role which aims to further enhance UA92's already innovative approach to education by ensuring it has the right academic offer that empowers careers and opportunities as well as enabling and inspiring students from all backgrounds. Sax's key roles are to launch UA92's apprenticeship programme, develop the digital strategy for learning and development and lead UA92's distinctive approach to Character and Personal Development.

In the short space of time Sax has been at UA92, he has been pivotal in securing and winning a £2m capital funding bid from the Office for Students to launch a world leading digital academy. The Digital Academy will deliver enhanced and cutting-edge learning in an employer led, industry co-developed curriculum designed to prepare, educate and develop people of all backgrounds for a digital career.

The academy will be a digital ecosystem dedicated to digital learning and development, leadership and enterprise. It will include two specialist studios, a robotics lab, multiple flexible mobile digitally enabled learning studios and an immersive video environment. Fully accredited computer science degrees, degree apprenticeships and professional body certified short courses will include DevOps, Cloud, Linux, data science, cyber security, AR, VR and AI.

Aaron believes that in order to improve the digital skills labour market there needs to be significant investment in the talent of the future. We need to be brave, bold and disruptive in our approach.